Did you know that with Google's recent updates in September 2022 to improve food or restaurant business search, you can gain a significant edge and a lot more customers with a restaurant website?
Table of Contents
Advantages of Having a Website for a Restaurant
A website makes your restaurant easier to find
Think of your website as an internet address and the "home" of your business. It is the start of customers getting to know your business and all that your food business or restaurant offers.
This is important because when people search in the internet, studies show the likelihood of potential customers to call, walk through your restaurant door, get catering services, make reservations ,or order food online is high – in other words, a high buyer intent.
The key, however, is for search engines to understand what your business is about. This is where keywords are very important – and you have better control of placing keywords in the right places in your website compared to a Facebook page or social media platforms.
Check this example out: the search term is stretch mark and scar tattoos arizona, #1 in search engine results is a website because it matches the search term, while the Facebook page of that business is at #9, not quite a keyword search match.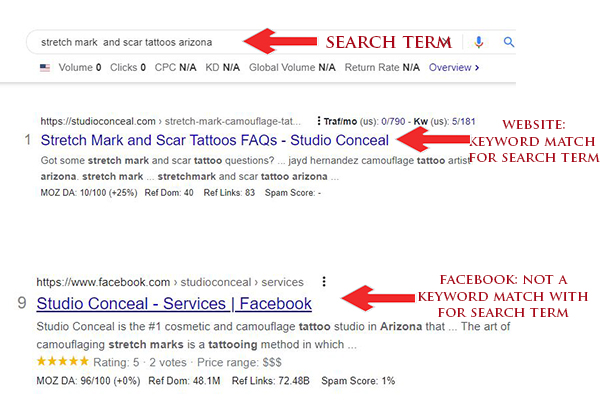 The same goes for a restaurant website – you have better control of putting important keywords where it is crucial, like "Japanese restaurant in Malate" which you cannot quite do with a Facebook page.
Thus, with a website for your restaurant, you can get new customers – which equates to more business for you!
Provides easy access to key information about your restaurant
Customers will know all important details about your restaurant or food business – such as your
location,
store hours,
social media links,
your menu items,
your venue
special offers,
special events,
other services offered
when you have your own restaurant website. This is 24/7 accessible information and online presence.
But even before customers can find your website, search engines need to understand your business first. They need to be able to crawl restaurant information so that they can display them in search results.
That being said, they can crawl information better in a website and hence, having one will give you a search advantage over your competitors.
Of course you can put that also in your Facebook page, but there are two major things where a website has an advantage:
Google/search engines crawl websites more efficiently, and
You can automate processes within your own website, such as online ordering and online reservations.
So when a customer searches for "restaurant open now" Google crawls websites and Google Business Profiles to know the restaurant hours and brings about search results accordingly.
Tip: do not just put M-F 9 am to 10 pm, rather list the days with the corresponding hours individually, as it helps search engines to give more efficient results when it comes to search for store hours.
Creates a digital menu which Google now supports
Get ahead of search rankings and dominate the first page with your website – an update by Google in Sept 2022 states that Google now supports digital menus. Google stated this in their blog:
That's why we're expanding our coverage of digital menus, and making them more visually rich and reliable. We combine menu information provided by people and merchants, and found on restaurant websites that use open standards for data sharing.

https://blog.google/products/search/food-restaurant-search/
Thus, when you only have a photo of your menu on your FB page, Google will not be able to promote your dish.
Get discovered with Google's "search restaurants by dish" function
As of that same blog, it says you can search a restaurant by dish in a particular location, as you can see here:
You can only do that when you have good images with proper identification just like this, discovered by Google in a restaurant website: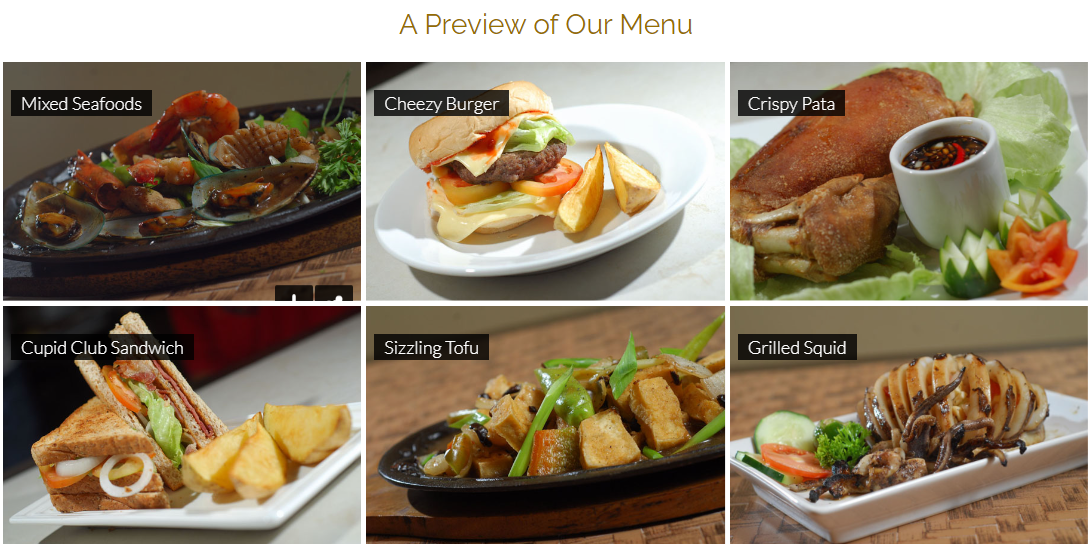 Adding the right label of food pictures is more easily discovered in a website, because one can add the label in the "alt text" function compared to a Facebook page.
Search engines love local websites
When you search for a restaurant, notice that most of the time, restaurant websites rank ahead of FB pages, as the businesses and the crucial information are easier to discover in a website.
The reason search engines prefer local websites over FB pages is that they can crawl websites better to give more accurate information to search queries. As mentioned above, a restaurant website, when optimized will be easier to crawl for
type of restaurant
dishes including images
digital menus
venue images
store hours
location
Provides branding and image
This gives your restaurant a professional image and brand. Having a restaurant website levels the playing field in the sea of competition.
You can add Customer Loyalty Programs
One perfect marketing strategy that you can start within your website is a sign up for your promos through a mailer service. One such service is Mailchimp which you can use to blast special offers.
With Mailchimp, you can collect their name, email adress, and birthday, then send automated birthday greetings with a promotional coupon – who does not want to be remembered? Easily this is one of the hands-free ways to build a solid database of loyal customers.
You can get Data Analytics
This is somehow advanced but it has to be mentioned because this is important. When you install a Google Analytics tracking code, you can get a lot of data such as demographics of those that visit your website, the most visited pages, the device used to visit your website, compare growth over periods of time, and many more.
This helps plan your marketing strategies further, such as creating buyer personas, launching campaigns in a particular location where a restaurant is weak to name a few.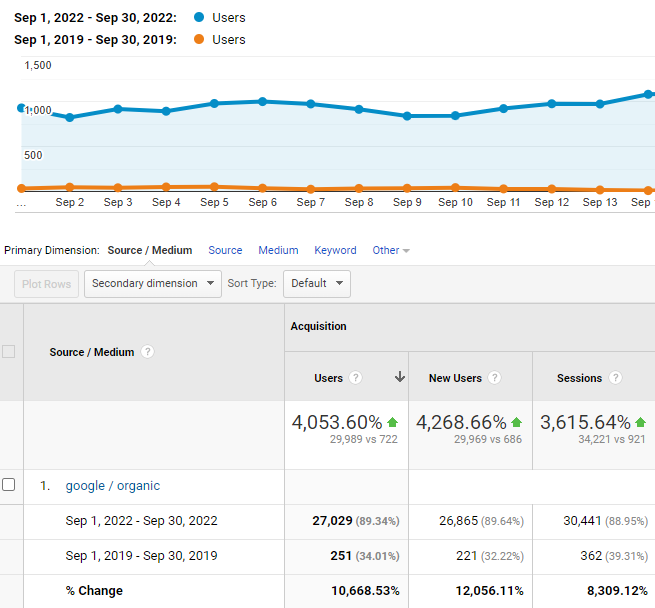 What are Some of the Most Important Features Online for Restaurant Websites?
Key Information
Aside from the basic store hours, contact details, address, you can also go one step further by embedding your location via Google Maps. Doing so makes it easier as customers can tap on your embedded map to get directions.
An online menu
Having an online menu is more than just for online orders. It also gives the restaurant an advantage in terms of online visibility because, as mentioned above, Google supports digital menus, and they will very likely display your menu options when potential customers search for dishes that you happen to offer.
A menu that is also enabled for online ordering also gives the restaurant the option for increased online presence because of another free tool that most restaurant owners do not know about: the Google Merchant Center (GMC).
What is Google Merchant Center?
This is a tool wherein restaurant owners can display their items on Google for FREE. The requirements are
They must have a restaurant website and
They sell products online (only products are allowed) even if it is a third party site (like Anytable.ph)
Images of Menu Items
Pictures of your dishes should be of good quality and with the proper "alt text" (the web developer knows this) as this is what search engines crawl to help them identify the images.
Good quality images with the proper labels will give you an advantage in Google's "search restaurant by dish" functionality.
Venue Images/Videos
Having images or even videos of your venue helps customers decide whether they want to try your restaurant. This also helps in the next functionality that is crucial to getting high ticket sales.
Customers searching for a place for special events can make a decision when they have a visual of your venue, which ties to the next function we will mention – reservations.
Online Reservation Capability
If you are a restaurant owner and have not activated your online reservation option, you are missing out a lot of huge ticket sales! More people prefer the option to book a venue over the internet without having to make phone calls.
Having this function gives diners a pleasant experience. For example, diners will have no waiting time and can get seats immediately by the time they arrive.
Or potential clients can secure the venue for meetings or special occasions with just a few clicks at anytime they search. This is much more convenient than customers making phone calls which they have to do during store hours only.
This is not limited to table or function room reservations. You can even rent out your entire venue, whether big or small. This is especially helpful if you have lean hours, offer your venue for reservation – even it is a quaint coffee shop for 20 or a bigger venue for 200.
Coffee shops are ideal as co-working spaces and networking meetings, while bigger venues can be rented out for parties.
Successful Restaurants
The most successful restaurants in our platform have online reservations active 24/7. They have received advanced bookings at hours when the restaurant is still closed – so in essence they are making money 24/7, thanks to their ordering/reservation-enabled restaurant website!
One restaurant in our platform has actually received bookings from other parts of the world – thanks to the internet, OFWs who, while still abroad, were able to to arrange the reception of their wedding here. Imagine the possibility of getting other customers from around the world?
So literally, with a website for your restaurant, there is no limit to time and geography in terms of getting a customer. It is all about convenience!
What is the point of having restaurant website and having a strong online presence if you cannot make it convenient for the customers to order or book in advance at the exact moment the customer has made a buying decision?
Here is a case in point, a customer messaged a restaurant if they were open on Christmas day, the customer waited for one whole day before they got a reply.
If that restaurant had an online reservations, there would have been no waiting time and this would have been converted into an automatic online reservation.
The long waiting time is not only bad in the eyes of the customer, but can also mean losing the free messaging option in one's Google Business Profile if you have a response rate lower than 90%.
Get Your Restaurant Online and Get Ahead of Competitors!
Being in a restaurant business, you need a website that will practically automate everything, from ordering to online reservations 24/7. A Facebook page is still a very manual way of doing things, and you can lose a customer when the customers get no immediate response.
The key is to give the consumers the ultimate in convenience. Having this type of website is the very reason why merchant partners of Anytable.ph have weathered the pandemic, while many restaurants have sadly closed. Get your business online and maximize your business potential.
Related read: Our All in One Solution
---
Author: Hazel is a Search Engine Professional who has made many businesses grow in the USA, Australia, and the Philippines by increasing online visibility.